Kayak Wild's raison d'être is to illuminate and disseminate methods of self support and expedition style whitewater kayaking, a.k.a. kayak camping. Over the past 25 years or so that I have been primarily engaged in self supporting rivers, I had always considered packing a kayak for overnights to be pretty much common sense, unspecialized, and a somewhat aberrant style of boating unworthy of much attention. Using readily available play boats, with minor adjustments, I have enjoyed many self supported trips on many great rivers. In the Spring of 2012, I began the long overdue search for a new kayak, capable of running wild rivers from day play trips to week long expeditions with equal aplomb. It was during that quest that I also encountered scattered internet links leading to both commercial and unstructured private sites containing infrequent information concerning overnight kayak gear. I was surprised to realize the degree of building interest in what I had, up to that point, assumed was a very arcane style of boating – in fact, little more than a "wet backpack" – practiced by a relative few outside of sponsored international Class VI expeditions. I was also dismayed to discover that one particular manufacturer of kayaks, of whom I had up until that time held in high regard, restricted free access to specific information and videos, despite the fact that those very techniques would presumably assist them in the commerce of their own whitewater/flat water crossover style boats.
And so, new river runner thus acquired, I was inspired to pack a POV style camera (selfies!) on my very next trip down the Middle Fork of the Salmon River, documenting the self support experience, and establish Kayak Wild as an independent resource for the free exchange of information, techniques, and trip sharing. With this eventuality in mind, I also took special care to document the gear I carried, prior to launch. It is for reasons of only now having completed that video feature "Wild River", that this site, as well as the associated Facebook pages "Wild River" and "Kayak Wild", now launch coincidentally, two years hence.
Kayak Wild is not my personal boating blog. Its sole reason for being is to facilitate the free and unencumbered exchange of information related to self supporting and kayak camping on whitewater. A quarter of a century's worth of experience, much of it occasional, does not make me an expert. I welcome your accumulated wisdom to the general discussion. Please participate.
I am aware that this site, catering to a very specific few, may set a record for receiving as little visitation as any on the entire world wide web. That's okay. It is equally unimportant to me whether Kayak Wild becomes interactive or is solely used as the resource I am willing to provide. My only aspiration for Kayak Wild is that it function as a centralized resource for all things kayak self support, until something better comes along. For those who desire it, the information provided here and through the Kayak Wild Facebook portal page will be accessible when needed, for as long as I am able to maintain it.
ABOUT ME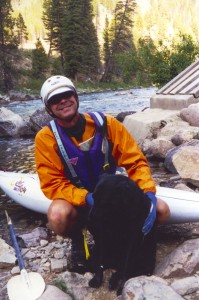 I began whitewater kayaking in the early 1980's, in rented Perception Mirages and Hydras, the first of a series of plastic boats designed more or less as fiberglass kayaks had always been. With the continued use of evolving plastic kayak designs rivers fell to first descents with astonishing regularity throughout the following decade. By the early 90's I had "progressed" beyond the juvenile need to claim Class VI rivers and the acceptance of uncertain personalities, getting back to pure enjoyment of the river through solo multi-day river running throughout the American West. Among the rivers I have solo self supported are the Upper and Lower Colorado, San Juan, Yampa, Green (Dinosaur, Gray, Desolation, Labyrinth, Stillwater), Dolores (200 miles from McPhee to the Colorado), Bruneau/Jarbidge, and Rogue Rivers and their tributaries. Some of these rivers, being quite deficient of whitewater, were run purely for reasons of love of personal exploration, study of unique riparian ecosystems and history, and the marveling of magnificent sandstone defiles. Previously, I had also self supported the Middle Fork of the Feather in California with others, as well as the Selway in Idaho and the Colorado through the Grand Canyon, with raft support. One solo prize remains on my list – a return to the Colorado. I have been on the short(er) list for a permit since 1990 when I ran it with motor launch support of a group of kayakers, and hope to claim it this year or next.
Here's to hoping you find what you want, either on river or off…
Ben Dewell, January 2015