I am an unrepentant fair weather boater. Incidentally, "fair weather" is not a random occasion on any of my backcountry excursions. I hold an advanced degree in meteorology from the University of California, and study weather data before any multi day wilderness trip, river or otherwise. As a soloist, I prefer the deck be stacked in my favor, as much as possible. Better to leave any impromptu fun to the more constrained currents of the river, rather than the unruly atmosphere.
DRYTOP / DRYSUIT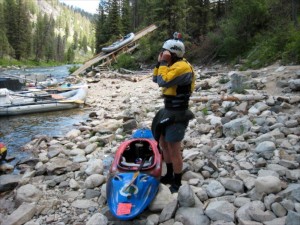 Although I've worn them on foul weather runs, I despise the clammy feel and claustrophobic constriction of full drysuits. You can add to that the cost, almost as much as a kayak, for a decent one. I primarily wear boating shorts (without liner to speed drying) with a polypro pile sweater and a good medium weight drytop, choosing not to swim in cold water (for the record, I have not swum on a run since my beginning year of kayaking). I include lightweight pile bottoms and rain/wind pants for unexpectedly cold days in the boat, but mostly for camp wear, when necessary. Since fair weather is a priority, they have rarely been used.
FOOTWEAR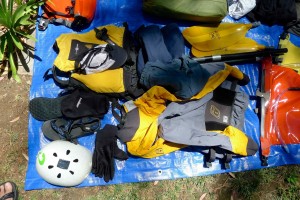 It appears most kayakers carry land shoes to change into off river. Space being at a premium, I was inspired to find an all-in-one solution which, on rivers without long or technically difficult portages/scouts, would only require one pair of footwear both on and off river. As most boaters did, I used the cleverly designed river sandals that revolutionized water wear last century. I used mine resoled with sticky rubber, even though the water prone loosening of their velcro fasteners left much to be desired. Eventually they were replaced by the types with surer buckle closures. I wore the sandals with heavyweight wool blend socks, replaced later with non-chafing water proof socks while on river. Off river, I wear them with either lightweight, easily dry-able polypro sox, or lycra volleyball style sand socks, to prevent sand from wearing holes in my feet when hiking (which happens astonishingly quickly). Another issue with thick wet sandal straps is that they are likely to remain damp at camp, which will wet through socks. I carry a pair of waterproof GoreTex outer socks and a heavyweight pair of polypro socks to wear inside. Thusly, my feet stay warm and dry in wet sandals at camp, when required.
HANDWEAR
I much prefer to paddle barehanded in all but the coldest water, but think it wise to bring along some kind of glove that can be worn paddling, if needed. Generally, the concern is not warmth, but rather the the physical toll that long days of cold water chafing, kayak stuffing, and camp chores can take on exposed hands. My gloves rarely get used, however the incessant wet/dry cycles can provoke vexing cracks at very sensitive places in your sole method of propulsion. I've begun carrying superglue (Kragle?) to seal these ruptures. Some kind of fisherman's crack creme would also seem to be a good idea.